We know one of the hardest things for a foreigner to do is get sponsored for a visa. That's why we created USponsor Me, to present you only with open jobs that have a chance of visa sponsorship.
For some of the open positions on our platform, the company offers visa sponsorship. These jobs are flagged "visa sponsorship guaranteed".

But what about other ones? How do you know if you have a chance to get sponsored?
All of Our Open Jobs Are From Previous Sponsor Companies
As a reminder, we identified the 10% of companies in the USA that have sponsored for a visa in the 10 past years and we pull their open jobs on USponsor Me.
But even those 10% cannot offer all kinds of visa sponsorship, and, remember, you can't be eligible for all of them!
So we identified the visas certain companies are eligible to sponsor, and we calculate the visa you may also be eligible for, and then we match you both!
But now, how do we know if the hiring sponsor companies are still offering visa sponsorship? They do not mention in their job descriptions that they do sponsor, but they also don't mention if they don't… So how do you know?
Actually… we can't really know. But we can take a pretty good guess!
We are excited to announce the Visa Score: a score that tells you for each open job what the chances are that you will be sponsored! 🙂

How Should You Use Your Visa Score?
The Visa Score tells you how high of a chance you have to get sponsored for the job.
This score is dynamically calculated using the information on your immigration profile and the visa(s) that matched you with the company. Someone else can't have the same score as you for a concerned job!
Your goal is to target open jobs that are a good fit for you and have the highest visa score.
The higher the score is, the more likely it is you will be sponsored for this job at this company. 🙂 This can help you know which jobs you should target to get the odds on your side!
Login to USponsor Me (or create your account) to test this new feature! (This new feature is available for Get Hired members only).
How Do We Calculate Your Visa Score?
The visa score is calculated using the information on your visa profile and the company's profile. In the visa score algorithm, we take into account:
your citizenship and how many people of your citizenship the company has sponsored in the past 10 years.
the position the company is offering, and how many people in the same field they have sponsored in the past 10 years.
the most recent year the company sponsored someone.
the visa that matches you with the company, and how many of those have been sponsored by the company in the past 10 years.
the number of total people the company has sponsored in the past in comparison of the company size, and the number of approved, withdrawn and denied cases.
the company's relationship with US immigration; if they have been penalized in the past or not.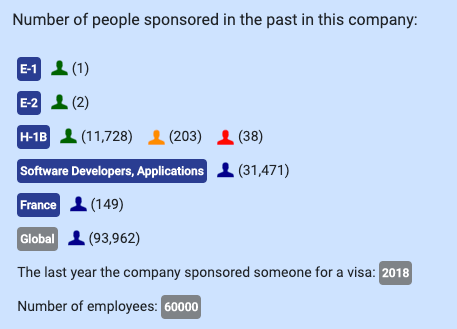 Each of these factors has more and less weight in the algorithm. What is deemed more important or less important is based on our 5 years of experience with visa sponsorship. We constantly adjust it all along with your feedback and hiring results.
Important Note: The Visa Score takes into account your visa profile and not your recruitment profile. It tells you your chance to get sponsored for a visa (for one visa you match with the company), not your chance to get an interview. In order to get an interview, you should make sure your resume fits 75% or more of the job description.
What do you think about this visa score? Any feedback? Let us know in the comments below!
We wish you a great job search! You Can DO IT!