The COVID-19 pandemic affects working/exchange visa (non-immigrant visas) issuance in some countries unless you are based in the U.S.A with a current working visa. If you are, this doesn't affect you as you may get an adjustment of status to a new visa/status without leaving the States.
If you are not based in the United States yet, please read the steps below in their entirety. Check all of them one by one to make sure you can get a job and be sponsored for a visa during the Coronavirus pandemic before subscribing to our 'Get Hired' plan.
1. Check if You are Eligible for at Least One Visa That is Not Temporarily Suspended
Since April and June 2020, and until March 31, 2021, some J-1, H-1B, H-2B, L-1 visas and green card issuances are suspended. Here is the official executive order (PP10052) for nonimmigrant visas, and the one (PP10014) for the green card.
First, check the visas calculated for you in your dashboard under "My Future Visa" (these are visas you may qualify for); do you see a visa different from J-1, H-1B, H-2B, or L-1?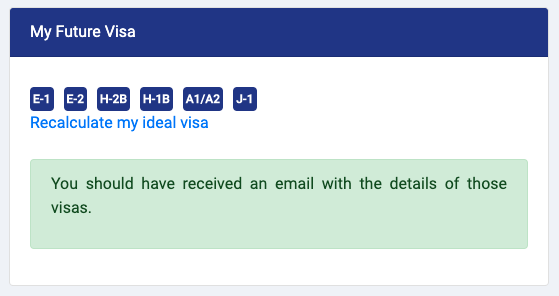 If yes, continue to step 2.
If not, unfortunately, you will have to wait for the executive order to be lifted. Rest assured, it won't last forever. In the meantime, you can still work on your resume so that you ready for when you can start your job search in the U.S.A again. This way, you can save several days on preparation once it reopens.
If you do not see visas you may qualify for in your dashboard, complete your profile first to calculate them.
2. Check if You Have Open Jobs in Your Field Based On Your Visa Eligibility
COVID-19 disrupts working/exchange visa issuance because it affects the U.S. economy. Most of the US-based companies are impacted, and have to cut costs, lay off people, and implement remote work for employees. The unemployment rate in the U.S. increased for some industries/fields while it dropped for others. Actually, some are massively hiring to face the pandemic, especially in:
health (to heal patients, do research for medications, vaccines, etc.),
the food industry (to produce groceries and daily supplies faster, grocery stores, etc),
logistics (to deliver, provide groceries and daily supplies faster, etc),
IT (data scientist to analyze coronavirus data, online software tools to work remotely, online entertainment, entertainment for the whole family at home),
communication (to communicate on the pandemic every day), etc.
So, make sure to check if you have job opportunities for you on USponsorMe.
You can change your job title at the top search bar with something related to your past experience or degrees.
Also, remove J-1, H-1B, H-2B, and L-1 visas from the "visa" filter and then see what is popping up. You can change other filters such as "location" to search a wider area in the United States.

Check if the jobs you see are a good fit for you by clicking "More Details" to display the whole job description.
Do you see open jobs you are interested in?
If yes, it means your field is not impacted by the COVID-19 (as recruiters still hire candidates), and you can still get sponsored. Continue to step 3!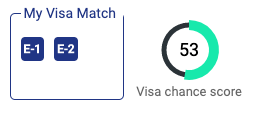 If not, unfortunately, we do not have job opportunities for you right now. However, we suggest you turn on your job alert, so we can send you future job openings as soon as we have new ones for you in your visa eligibility. The executive order and COVID-19 economic crisis won't last forever. So, we recommend you work on your resume in the meantime and be ready for when jobs will be available again. It will allow you to save several days on preparation once everything reopens.
3. Check Wait Time with the U.S. Embassy/Consulate
For getting a non-immigrant visa, you will need to schedule an appointment at the U.S. embassy/consulate nearest to you and that issue U.S. visas. However, due to the COVID-19 pandemic and the suspension of routine visa services by the Department of State in March 2020, waiting times for getting a visa appointment terribly lengthened. It's even temporarily no more possible to schedule an appointment in some embassies/consulates.
Here are the steps in order for you to verify if you can still schedule a visa appointment, and if yes, what are the waiting time:
Enter your country of residency here in order to display all U.S. embassies/consulates in your country.
Click on the one nearest to you, and verify on their page, if they issue U.S. visas. If yes, go to step 3. If no, click on the second one nearest to you and redo this process until you find the nearest embassy/consulate to you that issues U.S. visas.
Once you know the city where is based the embassy/consulate you will be attached to, enter the concerned city here in order to discover the visa appointment wait times. If you see a wait time in the table, it means that the concerned embassy/consulate still issues U.S. visas, and you know what is the wait time to get an appointment. If you see "999 Calendar Days", it means you will have to get the information directly from the embassy/consulate.
For more information about COVID19, you can click on "read more" from the banner "Travel Advisory" at the top of the page, or you can directly go through this page.
Is your closest U.S. embassy/consulate open to the public and does it issue non-immigrant visas?
If yes, congratulations! You are good to go with your job search in the U.S.A! And we can still help you get one of the open jobs you see on our platform during the COVID-19 pandemic by subscribing to our 'Get Hired' plan. Before that, though, continue to step 4, the last step to read.
If not, ask your embassy/consulate when they are going to reopen for non-immigrant visas issuance appointments. This way, even if they are currently closed, you will know when you can consider starting your job search in the USA. In the meantime, you can still work on your resume so that it will be ready once you start searching for jobs in the USA again. Doing this can save you several days on preparation once it reopens.
4. Check For Any Travel Bans From Your Country to the United States
As if it wasn't difficult enough, you may have some restrictions on travel to the United States once you get your job offer and visa.
Check the current U.S. travel ban status here by clicking on the United States; do you see your country of residency on the list?
If not, it means you do not have any travel restrictions, so you can travel to the U.S.A. without any problems.
If yes, check if you are among the exceptions. If not, you still can consider an expatriation in the United States, but you will need to stay 14 days in a country that doesn't have travel restrictions to the U.S.A. before entering the country.
Please make sure you check all those steps above before going ahead and subscribing to our 'Get Hired' plan. We don't take responsibility for your choice to subscribe. If you have any doubt, contact us.
What to do if I'm affected by those bans?
We recommend you to postpone your target departure date until everything resume and comes back to normal, and in the meantime, to:
explore the different locations in the USA (living costs/job opportunities/competitions)
explore your visa(s) and job opportunities options (contact us and we will help you with that)
take English class online to learn/improve your English, run blank interviews in English
Being more prepared means you will be among the first ones ready to leave during the upcoming surge for new opportunities after the confinement.
The COVID-19 pandemic won't last forever, but this situation will last for months to come until the infection rate is under control. Be patient! In the meantime, we strongly recommend you work on your U.S. expatriation preparation. The process doesn't have a time limit, and it can take several weeks for you to get the perfect resume, cover letter, and LinkedIn profile that can land you job interviews once jobs reopen. This will save you some time once everything goes back to normal!