USponsorMe contains job ads at companies that use to sponsor for the work visa. Let's see here how you can find job openings for you.
This requires that you have a USponsorMe account and a fully completed profile. No USponsorMe account? Start here. Your profile is not fully completed? Complete it here.
Access to Job Openings
From your dashboard, click here to see suggested jobs for you based on the position you can look at and which visas you may qualify for.
Profile Matching
Refine your search by industry and/or location if needed.
If you do not see any open jobs so far or see irrelevant jobs, type other keywords in the top search bar or extend the radius on the location to encompass a greater area.
We suggest you do some research on the Internet to make sure you use the right job title for your job search. See the different job openings and description on other job boards, and what describes you the best. Then, you can try finding jobs on our platform by typing keywords you found.
Please note: do not consider a career change for your upcoming job in the U.S.A because U.S. immigration will ask you for proof that you can do the job to issue you the visa. So, stick with a target position you already have experience with, or at least something similar. If you have only a few instances of job experience or no experience at all, stick with a position that is related to at least one of your degrees.
Try as much as possible to target companies that are in need of someone bilingual and have the same culture as you.
Visa Matching
You can see for each job the type of visa that matched you with the company:

Check here for what to do if you see the words "Work For Us First" in brackets close to a specific visa like above.
We strongly recommend you to prioritize :
open jobs that have the tag "Visa Sponsorship Guaranteed":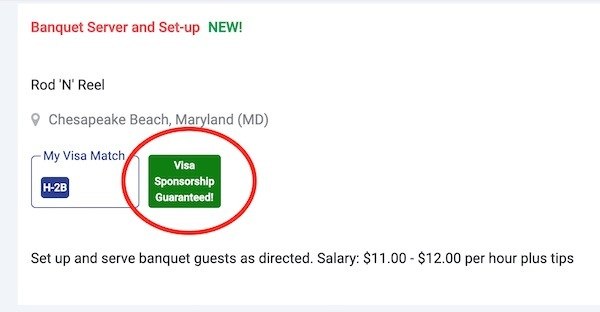 To only see jobs that guarantee visa sponsorship, turn on the Visa Guaranteed criteria in the filters: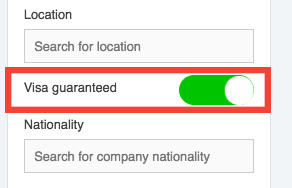 or open jobs that have the highest visa score:

Here is more info how we calculate this visa score.
Once you find a job that you are interested in, you can either get in touch now with them, or save this job for later by clicking on the heart at the top right.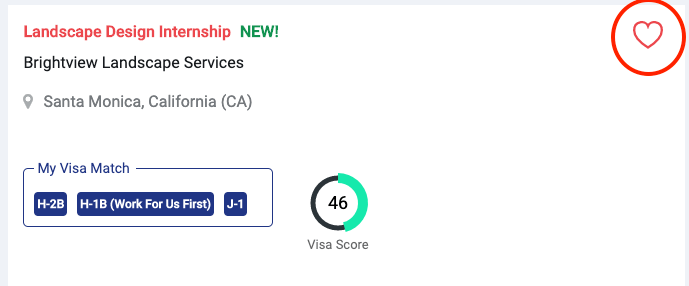 Once you have selected some jobs that are perfect for you, it's time to prepare your resume!
Can't Find Any Open Jobs?
Be the First One Notified
Set up your job alert in order to receive job ads by email (the email you use with your USponsor Me account) as soon as they get posted on our platform.
Extend Your Search
Send Job Inquiry Letters & Get Internal Referral
According to the Wall Street Journal, 60% of open jobs are never posted. So, you still can target sponsor companies with a high visa score match rate, even if they do not have any openings listed by browsing sponsor companies on USponsor Me.
To see those companies, click on the "building" icon in the top left: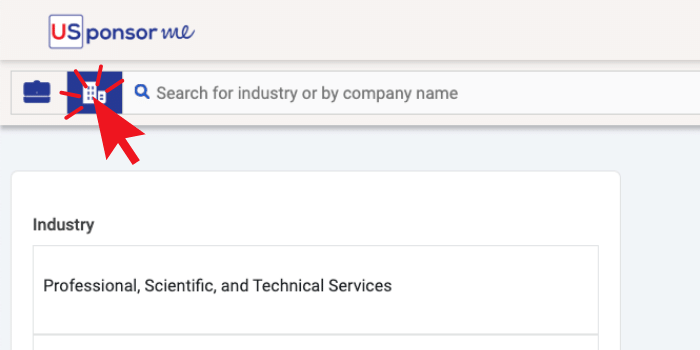 You can also filter on industry, location, and visa. Once you have found some companies that are right for you, bookmark the URL in your browser. 😉
Then, get an internal referral. More info on how to find internal contacts.
Browse job openings at sponsor companies on company websites
We do not retrieve all job ads at sponsor companies yet. So we suggest you browse our sponsor companies and then go to their career website to see the job ads they have.
Need help finding job ads with visa sponsorship? We definitely can help you! Apply for a coaching session with us.