What is the data source of companies that sponsor work visas?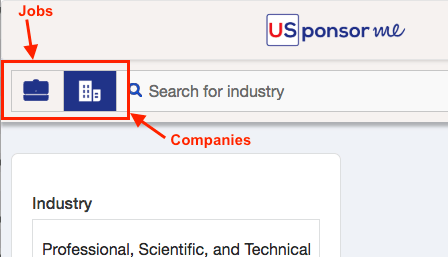 As you know, in the version V2.0, which is already up and running, you now have access to the new job board with open jobs and companies that sponsor work visas, and the data is much more accurate and will become more and more accurate during the time, thanks to your help.
After facing lots of questions, I have decided to write an article about this subject and be COMPLETELY transparent regarding:
Where we found the data?
What have we done during these last four months of silence?
Why I want to help you and how?
I created this business because I know how you feel when you face your job search in the USA, I experimented it. Max and I had the same issue as you when we searched for our job in the USA. We also have heard in the past: "I'm sorry, but we are not one of these companies that sponsor work visas." I got hired and had been sponsored for the E1 essential employee visa, Max got the E2 essential employee with his company. For 5 years, we ran after visas and solutions to stay. We went through a lot…
We have persisted, and we are still living in the USA today.
For this reason, and this reason only, I decided to create a business to help you as I would want to be helped in the past. International exchange is the cause I pray! An experience overseas is more powerful for your career than you can imagine. It was so valuable for me, so I know, it's going to be valuable for you. It will open you lots of doors and opportunities, and I'm serious.
Following that train of thought, I had a single question in my mind that I couldn't erase, which was:
How can I help you find your job in the USA with the current politic "Buy American, Hire American"?
The thing is, even if the trend is not in favor of International people, companies still have a hard time to hire locally, and we, International People, still have opportunities in the United States.
So I'm sure you know, the big problem to find a job in the USA is THE VISA… You can't find a job because you don't have a work visa or work authorization, and you don't have a visa because you can't find companies that sponsor you for the visa.
So I thought that:
The best way to help you is to find these companies that sponsor work visas and are used to it!
This is what I would love to have for my job search! What do you think, do you think it's a great way? Please let me know in the comments at the end of this article!
So, I searched a lot to find those companies, and I'm glad to tell you guys that I found something…
Actually, I found all the petitions filed with the USCIS from 2008 for the visas H1B, H2B, H2A, and the PERM, which is the first step of the green card process in some cases. I also found for each PERM that was filled, the past nonimmigrant visa for which the candidate has been sponsored in the company before applying for the green card process.
This data are open data, and it comes from the US Department of Labor foreign workers.
So you could not have more accurate data!
You can consult it if you want, but I will give you the heads up: there are horrible massive Excel files that you won't may be able to open.
Even if our current data are mostly from this source, day after day, I also extend my company network thanks to people who found a job with my advice. 🙂
What we have done so far
What we have done during the past 24 months with Maxime and our data scientist, is to extract all those petitions from the Excel files, by only retrieving the interesting data in our database as:
Company's name
Company's address
Job title sponsored
Type of visa that has been sponsored
Contact phone
Lawyer's name that took care of the case
The year when the petition has been submitted
Citizenship of the person sponsored
And so on…
We noticed that there were lots of typos and errors in those files, so we fixed and cleaned up all the data to be able to give you the real address with the right zip code, the right city, the correct company name, etc.
After all of that, we merged the data of all the companies that sponsor work visas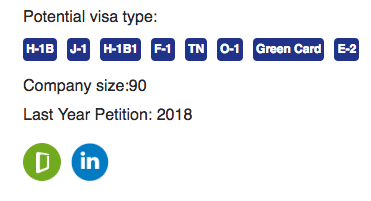 We merged all the petitions per each company. So by doing that, we were able to know:
all visas that the company sponsored,
how many requests a company has filled in the past ten years,
for which work visa, and for which citizenship,
at which location,
and when was the last time.
And we retrieved all addresses of each company, where it's located, the phone number, and the lawyer who handled each case.
This way, you now have access to all this information in one place! You will see the visa a company may potentially sponsor you because they already sponsored someone for this kind of visa. And we also added potential visas that those companies could technically sponsor or hire someone.
It was the case for our 2 companies. Our companies had already sponsored someone for the same kinds of visa than us in the past.
Data Accuracy
Someone asked me if the companies we have in USponsor Me are accurate.
As I already said above, this data comes from the US Department of Labor. So whatever says the person you are in contact with in those companies; they already sponsored a visa in the past. Our data are based on a trustworthy source of information. If you don't trust us, go ahead and analyze each file, and you will see.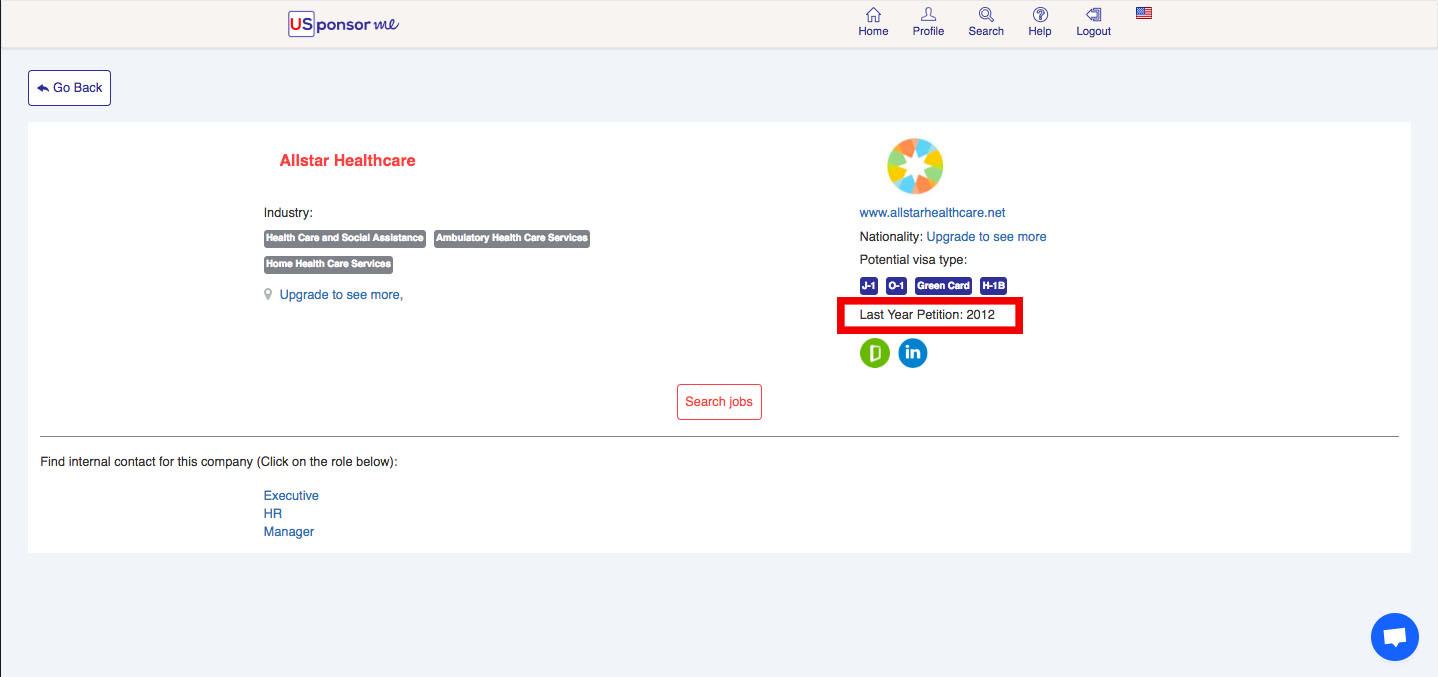 However, the fact that they sponsored in the past does not mean that they sponsor for now. They may not be able temporary or permanently sponsor anymore.
You can definitely know if it's the case or not in USponsor Me, by checking when is the last year they sponsor. So, if they haven't sponsored any visa for a long time, it might be the case that they don't sponsor visas anymore, OR they don't sponsor YOU because they don't know you and it's another problem we will go through together if you work with me.
As you imagine, we DON'T want companies that do not sponsor or hire international people in our database.
So we are actually developing a new feature, which will be the Visa Chance score regarding your citizenship and the kind of visa you are qualified for.
It's going to be calculated regarding:
The number of petitions the company has filled in the past years,
for who (citizenship),
for which visa.
So in that case, if the score is high, you will have more chance to get a visa from this company.
We then are planning to analyze companies with a lousy visa chance, to determine if they will still sponsor permanently or not. But for that, we will need your help… I'm thinking about a reporting system with some award to thank you for your support, but I don't have yet a precise idea. Do you have any idea regarding this? Please let me know in the comments!
Are you doing your searches in USponsor Me with the kind of visa you are eligible for?
If not: that's a big mistake!
After you create your USponsor Me account, let me tell you that you haven't finished your account setup yet. To complete the set up of your account and efficiently use the platform: you must calculate your ideal future visa going to "My Future Visa" section in your dashboard and clicking the button to calculate it. You need to do this final step to be sure you are using the search engine in the right way!
Why?
Just to be clear, I don't give any visa advice, but just the way to help you in finding your sponsor. Please remember that you do not qualify for all of the visa. And the company can not technically sponsor all kinds of visa either. So you have to target only companies that can technically sponsor the visa you are eligible. Otherwise, it's a waste of time.
What's important is the job title you are looking for, and the visa you are qualified for: that's the key! For the visa E1 and E2, you will also need to filter your citizenship. Without those 2 or 3 filters, your search will not be accurate. And if that's not accurate, the company won't be either.
Besides that, you can also filter on the target location if any; and the industry if you search for a specific sector.
If you encounter yourself without an answer to your application: the cause might be that your resume is not adapted to the U.S. market. That's the second big issue for International people.
So now, I hope you understand why using USponsor Me is not totally free. It's greatly valuable for your job search in the USA to efficiently target the right companies for you, and I also offer a complete resume, cover letter courses to put all the odds on your side. If you've already applied for a job in the USA, you know what I'm talking about. We have done our best that you can see what opportunities you have in your field, and what chance you have before going further in your job search. So once you know that… it's up to you to realize your American Dream, you have everything here to let it come true.
Remember, it's your project! Don't keep making the same mistakes all over again.
I wish you a great job search! You Can DO IT!