You may know that sponsor companies only represent 10% of all companies in the United States.
And a lot of you have been asking us how we found the 400K+ sponsor companies (all of which you can access here) based in the USA that hire foreigners and offer them visa sponsorship.
Actually, we never found such a list – we made it!
Our Sources
We have two trustworthy sources for all our information:
The US Government
Each year, the US Department of Labor Foreign Workers publishes all visa petitions filed for the H1B, H2B, H2A visas for the year. It also publishes information about the PERM, which is the first step in the process for a green card in some cases.
Most of our current data came from this source in the beginning.
The Sponsor Companies Themselves
Now we extend our company network with companies that contact us directly to publish their open jobs with guaranteed visa sponsorship on our platform.
You could not have more accurate data!
How We Made This Sponsor Companies List
Data Extracting
We downloaded all the US government Excel petitions files from 2008. With one file of 500mb per visa and per year, we had more than 40 files to work on. And we extracted data like:
the name of the company who has sponsored.
the address of the company.
the industry of the company.
the lawyer who created the file.
the job title of the person who was sponsored.
the type of visa (H1B, H2B, H2A, PERM, etc.).
the case status (if the case has been accepted or denied).
the citizenship of the person sponsored, etc.
And from our direct companies, we simply ask them for data in order to enrich their company profile.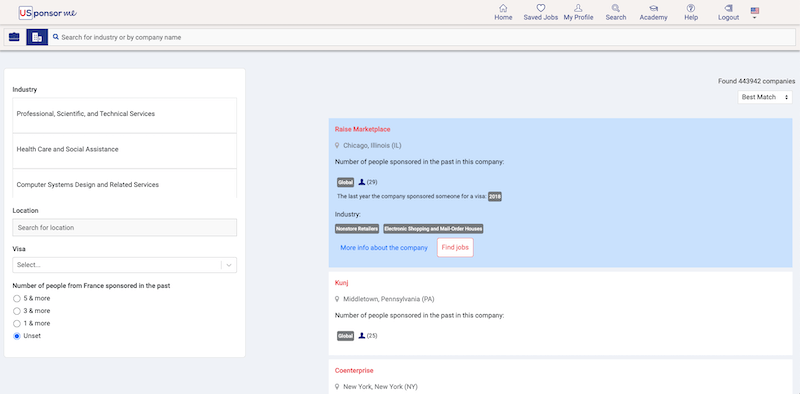 Data Cleaning
We noticed that there were a lot of typos and errors in the government files, so we fixed and cleaned up all the data in order to give you more accurate information, such as the correct company name, the real address (by comparing it with official USPS addresses), etc.
Data Merging
After that, we identified each unique company using their company name, status, and address, and we assembled all the data!
And, by doing that, we were able to know for each sponsor company:
the number of visa requests they filled.
for what types of visa.
when (which year).
for what position and domain (job title, soc title).
for who (citizenship of the person sponsored).
at which location.
All of this in the past 10 years.
You can find all this information for each company on our sponsor companies list, all in one place.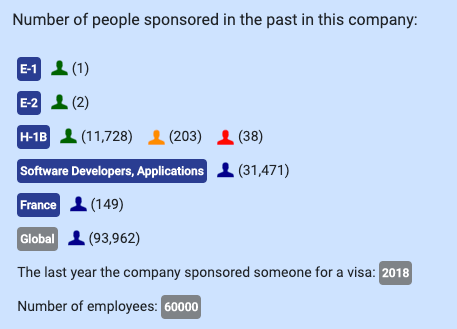 Max and I were so happy to find the two companies that sponsored us on our own-made list! 🙂 It tells us that this list of sponsor companies can really help future international candidates. It wasn't that long ago that we were in the same boat that you are today.
How Long Did It Take Us?
It took us several months to work on all that data, as well as to develop the search engine that makes you the possibility to search on this list.
We hired a data scientist for several weeks to make the dream come true: the sponsor companies list!
How You Can Use This List
You have access to the list here, and you will be able to search for sponsor companies by filtering for industry, location, etc.
But you be thinking you don't really care if companies have sponsored foreigners in the past or not. It's the past! And the fact that they have sponsored in the past does not mean that they will sponsor today. They may not be able to temporarily or permanently sponsor anyone anymore, or at least not in your desired field.
So we made things a little easier for you. We also placed open jobs at those sponsor companies in a search engine, so you can search for open jobs, filtering for location, job title, industry, etc. 🙂
Find Open Jobs At Sponsor Companies That Can Offer Sponsorship For The Visa You May Qualify
And the best is, on USponsorMe you only see open jobs at sponsor companies that specially can sponsor you for the visa you may qualify.

You will need to complete your profile in order for us to calculate your visa and match you to the right open jobs and companies. Find here the open jobs that match your visa profile!
How Do We Know if a Previous Sponsor Company is Still Offering Visa Sponsorship for an Open Job?
We Know for Some of Them!
We know when a company is currently hiring and offering a visa sponsorship when they come to us to publish their job on USponsor Me. You will find their jobs among other open jobs on USponsorMe, but they will be specifically flagged "Visa Sponsorship Guaranteed".

For the others, we do know if the company is offering a visa sponsorship if they mention it in the job description. You will also find those jobs flagged "Visa Sponsorship Guaranteed" on our site!
Otherwise, we do not know. But we have a pretty good guess if they do or not. 🙂
We Guess About the Others!
First, we know when companies do not offer a visa sponsorship because they mention it in their job ad. So we filter out those jobs because we do not want them on our site.
And for those companies who don't mention if they sponsor or not, we guess if they do for a concerned job! We tell you for each open job on USponsorMe, how much chance you have to get sponsored for a visa with the company, for the position.

So what do you think? Is this sponsor list what you are looking for? Let us know in the comments below!