Important notice before reading this post: nothing in this article is intended to be legal advice and is for educational purposes only.
As a reminder, you must adapt your job search strategy according to the visa that suits you. Non-immigrant E-type visas (E-1 and E-2), although originally intended for investors wanting to establish a business or trade with the United States, also apply to workers with the same citizenship that those companies want to recruit to develop their business.
Those are the first visa we got when we first moved to the U.S., Max and I. I had an E1 essential employee visa, and Max an E2 essential employee visa (after his H1B was not selected). But we are not alone, other people by using USponsor Me also got their job in the USA under an E-2 or E-1 essential employee visa.
I wanted to share with you all the information you need if you want to get an E1 or E2 visa as an essential employee:
The difference between the E-1 visa and the E-2 visa ;
E1 / E2 visa requirements ;
Where you can find companies sponsoring these visas ;
Their advantages and disadvantages.
The difference between the E-1 and E-2 visa
Before going into details, let me clarify the difference between the E1 essential employee visa and the E2 essential employee visa.
The E1 Visa (or Treaty Trader Visa) is granted to foreign companies wishing to make more than 50% of their trade (in goods or services) with the US. They also have to be based on American soil.
The E2 Visa (or Treaty Investor Visa) is for foreign investors wishing to create or buy a company in the United States and owning more than 50% of its shares.
It is necessary that the country of origin has some sort of agreement with the United States.
E1 / E2 visa requirements: in which conditions can you obtain these visas?
A company that meets the criteria for obtaining one of these two visas can then hire employees from its own country in the United States. The employee in question will then receive the E1 or E2 Essential Employee visa.
What criteria must the employee fulfill?
The employee must:
have one of the nationalities among this list of countries that have signed a trading treaty with the US;
perform an essential function in the company.
This is where this visa becomes interesting because the notion of an essential employee is quite unclear. The US law states that to obtain an E1 / E2 visa as an essential employee, you must be hired as a manager or supervisor. Or simply have special skills essential to the proper functioning and development of the company.
In practice, this can cover most positions within a company. To issue the E2 essential employee visa, the U.S. immigration services are looking at:
your proven degree of expertise (diplomas, professional experience) for the position in question;
your future salary;
if the company that wants to recruit you does not have any other workers with these skills.
You will need to prove your ability to be an active part of your future company's development. And, therefore, your qualifications and experience in a specific area. Do not worry; the immigration lawyer will help with this. On the other hand, it may not be your best option if you just switch careers.
To find out if you are eligible for an E-1 or E-2 essential employee visa, I invite you to take this quiz and run our visa algorithm here. This will show you which visa suits you best.
What criteria must the company fulfill to sponsor an E2 essential employee visa?
In order for a company to sponsor an E2 essential employee visa, it will need to:
be based in the United States;
have received a « substantial » investment by one or more investors of the same nationality as you;
that this or these investors of the same nationality as you, own(s) a minimum of 50% of the shares;
that your country (and therefore that of the majority investor(s) of the company) has signed a trading treaty with the USA (for which you can find the list above).
What criteria must the company fulfill for an essential E-1 employee visa?
In order for a company to sponsor an essential E1 employee visa, it will need to:
be based in the United States;
carry out the continuous exchange of goods or services between the United States and its country;
these exchanges must represent more than 50% of the volume of international trade;
the activities concerned include (without being limited to) banking, insurance, tourism, data processing, or technology transfer. But also advertising, engineering, consulting, etc.;
the country concerned by these exchanges must have signed a trading treaty with the USA (see list above).
Where can you find eligible companies to sponsor E-1 or E-2 visas based on your nationality?
If our visa algorithm tells you that either the E-1 or E-2 visa is the one that suits you best (because you meet E1 / E2 visa requirements), then you will only need to target the companies that meet the criteria we just saw.
On USponsor Me, we have compiled the list of:
all companies that have sponsored an E-1 or E-2 visa in the past,
as well as the nationality of the people who obtained this visa within those companies.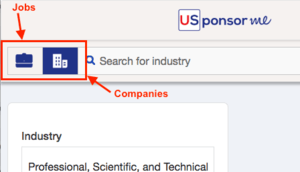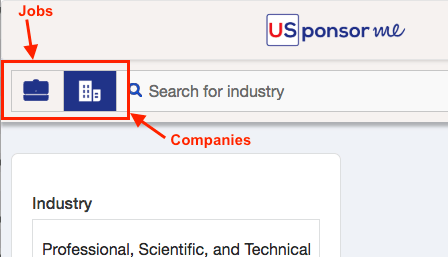 This allows us to deduce which companies are technically eligible to sponsor the E1 or E2 visa depending on your nationality since they have already done so. We also know when these companies have sponsored this type of visa for the last time, which gives us a better degree of confidence.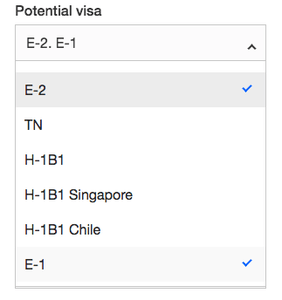 To find these companies, once you have a USponsor Me account, you just have to go to the « Companies » tab at the top right of your screen. Then, filter on the « E-1 » and « E-2 » visas, and type your nationality. Our search engine will return all companies that can technically sponsor your E1 or E2 visa! More information about how to find E1 and E2 sponsor companies is here.
You can also search for open jobs in your field offered by these companies. This time, click on the « job » tab of the application, filter on « E-1 » and « E-2 » visa, and your nationality. Then, look for offers with the keywords of the position you are looking for. You will also be able to search with the location you target if any.
The advantages and disadvantages of these two visas for employees
Like all U.S. work visas, E1 and E2 have positive and negative aspects.
The main advantages of these visas include:
They are deliverable throughout the year. This means no deadline, unlike H visas.
There are no maximum quotas, unlike H visas.
Your spouse can benefit from the E-1D or E-2D visa. As well as a work permit, 3 months after his or her arrival. It will allow him or her to work in the United States, unlike with H visas.
Your children under the age of 21 (if they are not married) can also benefit from this visa to live in the US.
You will have the opportunity to travel with these visas.
The delay to obtain an E1 or E2 essential employee visa is, on average, three months. Unlike the H visas, which can take 6 months or more.
Your employer won't need to prove that he does not find anyone with your skills in the US job market before recruiting you, unlike for a Green Card.
The E1 or E2 visa timeframe is dependent on several factors including the Treaty country. For us (Max and I), it was a 5 years duration and could be renewed indefinitely as long as the company is doing well and still compliant with the visa criteria. To check your nationality, please visit this page.
The disadvantages:
The company has to sponsor you for the visa. So they really have to be excited about your profile. The E1 / E2 visa requirements can be more difficult to meet than for a J-1 visa; for example, with which you do not need to be sponsored by the company.
The cost: $ 4,000 to $ 10,000. This amount is the evaluation of an immigration lawyer's legal fees. That's why the range is large because the fees are related to the lawyer you and your company will work with. Otherwise, the filing fees for the E2 visa application are $460 USD + $205 USD (please verify, the amount can change). It is often covered by the company. If it is not the case, you will have to include this amount in your expatriation budget.
You will be dependent on your company, and you will not be able to work for another employer with the same visa.
You will automatically lose your visa if you stop working for your company, and will be forced to leave the US immediately.
The transition to the Green Card will be more complicated than for some other types of visa. This is because it is not the purpose of an E1 or E2 visa to let you stay in the territory.
Settling with your family with an E1 / E2 visa
If you plan to settle with your family in the United States, your spouse will also be eligible for the E1 or E2 essential employee visa. You will need to provide that you are married (no other contracts are recognized in the US). But also that you two have the same nationality.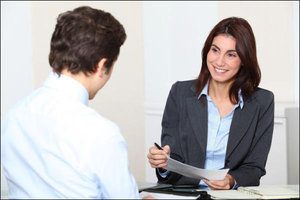 It is not uncommon for expatriates to get married during the months preceding their departure. Be careful though to have your certificate of marriage when you submit your application. Since you will be asked to provide it for the interview at the Embassy.
Your visa will also allow him or her to work in any sector. However, he or she will only be able to apply for the Employment Authorization Document (EAD) once you have arrived in the United States. Count on an average of 3 months. The duration of your spouse's visa will generally be the same as yours.
Only children under 21, and who are not married, will also be eligible for this visa and allowed to live and study in the United States. If you have older children and plan to settle in the US in the long term, a green card will be a better option for your family. All your children will benefit from your green card by extension. And their only obligation will be to reside in the United States for at least 6 months per year.
How to transfer your E1 / E2 visa?
Even if you are closely related to your business, I have heard that it is possible to transfer your visa if you want to leave your company and work for another, always as an employee (but this needs to be confirmed by a lawyer). However, the company in question will also have to meet the E1 / E2 visa requirements we just saw in this article to be eligible to sponsor you for the visa.
In addition, you will not be granted additional time to stay in the country while you search for a new job if you have already left your company.
Your integration and company culture
It is not because a company has exchanges with your country, or is mostly owned by people from your citizenship that it will have a 100% culture of your citizenship. I saw a lot of different configurations … Companies with 100% American employees and no other different country culture. In other cases, the company recruited a team with mostly employees from foreign cultures.
You will, therefore, generally have the opportunity to evolve in a mixed environment. Most often, the corporate culture is both close to your country's (because of its main shareholder or since it is a subsidiary). But also the American culture. This will allow you to live a more rewarding experience, and better integrate in the US.
Looking for more information about these visas? What are you looking for? Come, and let us know in the comments below!