How to Get Started?
New to USponsorMe? Here's how to get started!
1. Create Your USponsorMe Account
If you haven't already, create your USponsorMe account.
2. Complete your profile
Once you are logged into USponsorMe, the first thing to do is to complete your profile. Your profile information will be used to calculate which visas you may qualify for.
To do this, on your dashboard, click on the link in this yellow box as shown below:

Once you've completed your profile, it will show you a list of visas. You will also see them in your profile in the "My Future Visa" section: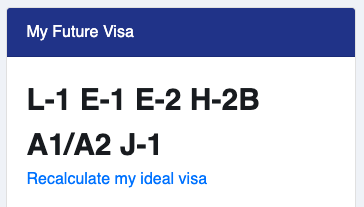 You can, at any time, use the Visa Simulator to recalculate your ideal visa if you are unsure about your answers.
3. Find Open Jobs for You
Once visas are calculated for you, from your dashboard, click on the button "Check Opportunities", or click here, to see suggested jobs for you based on the job title you are looking for and which visas you may qualify for.
Profile & Expectation Matching
Refine your search by industry and/or location if needed.
If you do not see any open jobs so far or see jobs that aren't relevant, change the keywords in the top search bar or extend the radius on the location to encompass a greater area.
Try as much as possible to target companies that are in need of someone bilingual and have the same culture as you.
Visa Matching
You can see for each job the type of visa that matched you with the company:

Check here for what to do if you see the words "Work For Us First" in brackets close to a specific visa like above.
We strongly recommend you to prioritize :
open jobs that have the tag "Visa Sponsorship Guaranteed":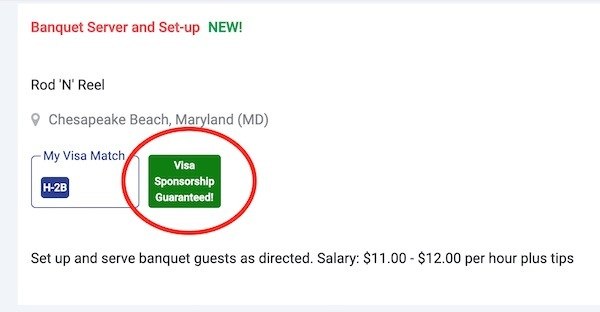 To only see jobs that guarantee visa sponsorship, turn on the Visa Guaranteed criteria in the filters: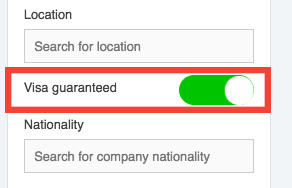 or open jobs that have the highest visa score (only available for Get Hired members):

Here is more info how we calculate this visa score.
Once you find a job that you are interested in, you can either get in touch now with them, or save this job for later by clicking on the heart at the top right.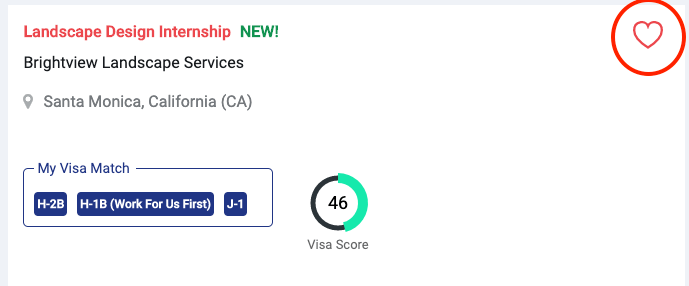 Once you have selected some jobs that are perfect for you, it's time to prepare your resume!
Can't Find Any Open Jobs?
According to the Wall Street Journal, 80% of open jobs are never posted.
So, you still can target sponsor companies with a high visa score match rate, even if they do not have any openings listed.
To see those companies, click on the "building" icon in the top left: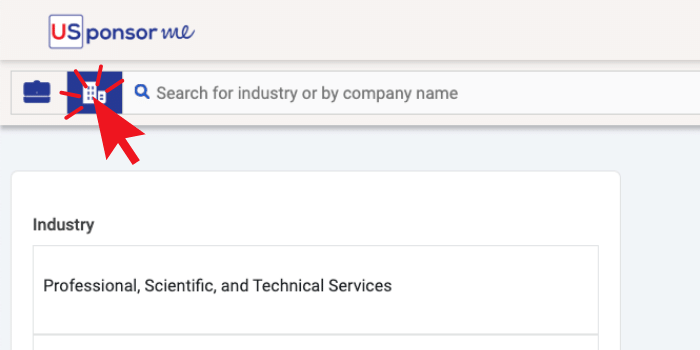 Once you have found some companies that are right for you, bookmark the URL in your browser. 😉
Then, get an internal referral. More info on how to find internal contacts.
4. Craft Your American Resume
Your resume should be in English. Even if you already have a resume in English, you should make sure: it's adapted to the US market, ATS-friendly, in the right format for you, without any visa request mention, and fits the job you are interested in.
You will find all the information to create a resume and cover letter in the Get Ready pack available here. This pack is also included for no extra cost in the GET HIRED plans. Look here for more info on that.
Then, in order to verify your resume is compliant with all of those criteria, I strongly recommend you order here two Resume Checks. We will manually go through your resume, and check, one by one, all details to ensure your resume is compliant. You will then receive a report with green and red points. If something is red, it means it must be improved, and that there is something you must change to turn it green, which means it's great!
If you have already purchased the 2 Resume Checks, upload your resume from your USponsor Me dashboard, section "Get Ready", and specify that you want your resume to be checked.
Once you are all set, next step is applying.
Please note: the job descriptions, visa score, and possibility to apply functions are reserved for the GET HIRED holders.