How to Apply For a Job?
Once you have found an open job that's right for you on USponsorMe, the next step is to get in touch with the company.
You will notice that for some jobs listed on USponsorMe, you won't have the option to apply, but only to find contacts. You can find more information on why here. But, if that is the case, just stick with the plan: find contacts and reach out to them directly!
If you do have the option to apply, here is how you should do it.
Scan Your Resume
When you click "Apply Now" on any job ad, you will see this popup: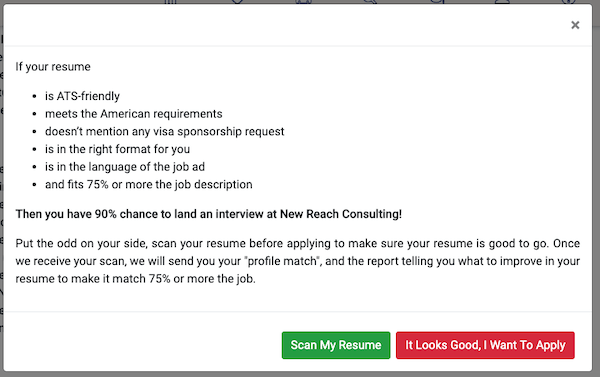 I think it's clear – if you want a 90% chance to land an interview for this job, you should first scan your resume to discover your match rate, as well as to receive a report detailing how to improve your resume if your match rate isn't at least 75%!
To do this, click on "Scan My Resume" and submit your resume for a scan.
Each time you request a Resume Scan, it will cost you one Resume Scan credit. You have three Resume Scan credits per month included with the "GET HIRED Within Six Months" plan, or 10 Resume Scan credits per month included with the "GET HIRED Within Three Months" plan.
We will get back to you within 24 hours with your match rate and the report. Your report (with your match rate inside) will be displayed in your dashboard, with the link to the concerned job.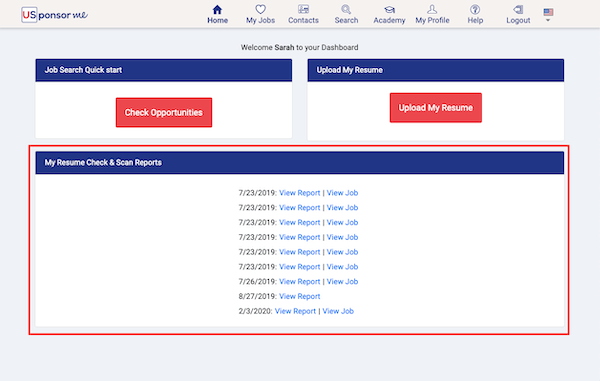 Once you get your report, open it and check your match rate!
My Match Rate is Less Than 75%
This means that your profile doesn't quite fit the criteria for this job. So, you have 3 choices:
Adjust your resume as much as you can without lying by implementing all the suggestions on the report. Then resubmit it for another scan just like you had before by clicking "View Job", to make sure your adjustments have improved your match rate for the job and it is now at or above 75%.
If your resume is at its best and simply cannot be improved, but you are still very interested in the job, you should get an internal referral instead of applying.
If you think you can find other jobs that are a better fit for your profile, go back to searching.
My Match Rate is 75% or More
This means that your resume is ready, and your profile is a good fit for the job!
Now, it's time to apply with the same resume you submitted to us!
Don't forget to carefully craft your cover letter before applying. We recommend you follow all our tips on crafting a cover letter available in the Get Ready pack available here. This pack is also included for no extra cost in the GET HIRED plans. Look here for more info on that.
Also, make sure your LinkedIn profile is updated with recommendations and good testimonials from your former colleagues, managers, clients, etc.
Be Prepared!
Before your first talk with someone inside the company, you should definitely know what visa you match with for this company. Be prepared with visa arguments that you will find for each job.
If you follow all of our tips above and still don't have any positive results regarding visa sponsorship after five to seven times applying to jobs listed on USponsorMe, contact us so we can help you. It means there is something wrong with your approach, and we can definitely help you go through the process and reach your goal.