New to USponsorMe? Here's how to get started!
1. Create Your USponsorMe Account
If you haven't already, create your USponsorMe account.
2. Complete Your Profile
Once you are logged into USponsorMe, the first thing to do is to complete your profile. Your profile information will be used to calculate which visas you may qualify for.
To do this, on your dashboard, click on the link in this yellow box as shown below:

Once you've completed your profile, it will show you a list of visas. You will also see them in your dashboard in the "My Future Visa" section: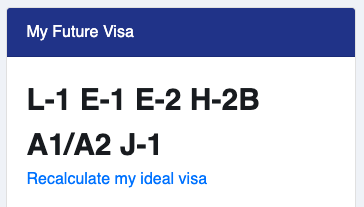 Make sure your profile is fully completed to get the most accurate result. Complete or update your profile here.
Then, go to your dashboard to see the steps to get to the United States with an employment-based visa.