We are excited to announce some necessary enhancements we have done to improve the jobs and companies search board.
Today's update is a release that contains improvements, bug fixes, and some new features:
We fixed some data, and merged several companies that actually were the same commercial business, regrouping more data for each corporation.
We added more than 1,000 French companies! And hundreds of companies for other nationalities! (This data is fundamental for people who are eligible to E1 or E2 visas).
We fixed some visas following their relevancy.
We removed the field "Nationality" as this filter is only relevant for E-1 and E-2 visas. Instead, if you search on "E-1" and/or "E-2" visa(s), it's going to take your citizenship into account for the search. It works only if you've already ran the Visa Simulator. If it's not the case, you can do it here.
And we added a new feature: the Visa Chance Scoring!!
New Filter: Visa Counters
Before the release of the V2.1, you had no way to know if the company you were interested in, was a good sponsor or not. Besides that you didn't have any option to see if they had in the past, visa sponsorship experience with someone on your citizenship, or with the visa you are eligible for. With the new version, you will now be able to know if a company is a good sponsor or not regarding your citizenship and your ideal visa; and the best of all is that now you will be able to sort open jobs or companies with those criteria!
If you are not yet part of the USponsor Me app… You just need to click here and sign up for free!
How to use it?
Now on each company and each open jobs, you have a score that tells you your chance with this company.
We included three types of score:
This one is calculated on the total petitions the company has filled in the past ten years.
You will be able to see this at a glance in the search list, even if you don't click to see the job details.

Once you click the open job to see more information, you will be able to see the other two score types.
This score gives your chance to get the visa you are eligible with this company. It's calculated on the petitions the company has filled in the past ten years for this kind of visa.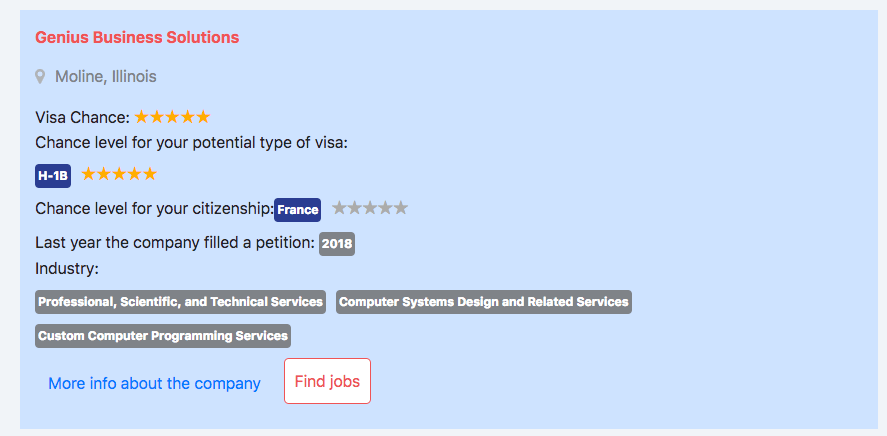 Chance Level for your Citizenship
As the name implies, this score gives your chance to get hired by this company depending on your citizenship. It's calculated on the petitions the company has filled in the past ten years for people with your citizenship.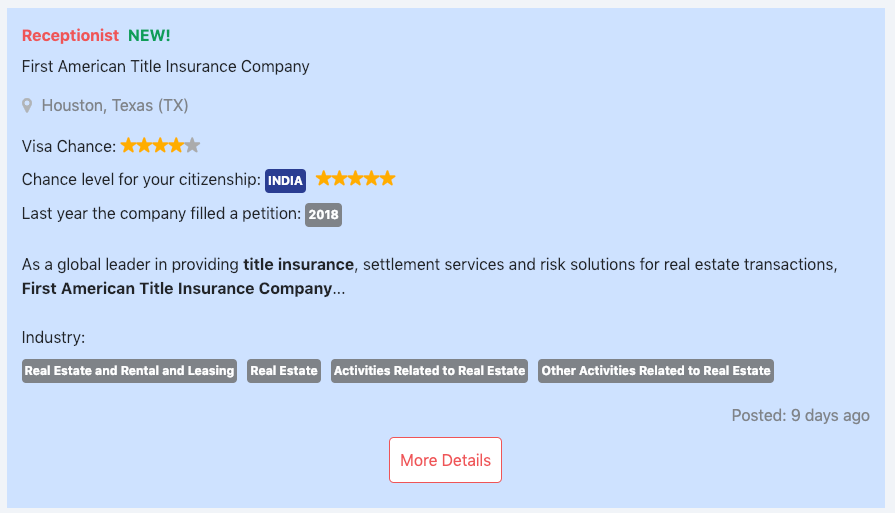 The higher the scores are, the higher your chances are. 🙂
And to top it all, we also have included the last year the company filled a petition, which is a piece of very important information you keep in mind.
Why are we showing those counters?
In my experience, someone has more chance to get a job in a company that has already hired someone with the same citizenship (culture fit), and sponsored for the same visa. So, if:
The last petition was filled in the past 2 years,
The chance score for your citizenship is strong,
The chance score for your visa is strong,
The total Visa Chance score is strong.
You have plenty of chance to get sponsored by this company, for the open job you found, if this one fits 80% your profile. If you are entering this with such favorable conditions, you just need to have a strong resume, a cover letter adapted to the US, and use the right job search strategy to get in touch with the recruiters in those companies.
Sorting on those rates
For a better user experience, you have the possibility to sort between the best total chance, and the best citizenship chance score. For that, you just need to select the "My Citizenship First" in the sort option in the top right of your screen:

We only have released the citizenship and total Visa Chance score sorting. If you think it would be useful to also sort based on visa type rate and last petition, let us know!
This new feature is in a beta test, we are looking forward for seeing what works best for all of you. I thought that those rates would be the best ones to show first, but it's possible that one works better than the other for you. I need you to help me find out what is best to focus on. 🙂
Your feedback on this is truly appreciated and can definitely help us improving these new features. Let me know if you have noticed better chances with companies with a good rating on your citizenship, or visa type you are eligible for, or with the last petition year less than 2 years, or all criteria together, etc.
I'm looking for the project of calculating the most ideal rate for you depending on the visa you are eligible, your citizenship, the last year the company filled a petition, and 3 other criteria I think it could be interesting to have! It's possible you see new scoring rates in the next months to test if those also work for you to find your sponsor or not. I will let you know very soon what other criteria we want to include to help you find your job with visa sponsorship.
How to see those rates?
You won't see those scores items if you haven't done the Visa Simulator. Because they are calculated depending on the information you gave us in the Visa Simulator questionnaire. So, from now, you will need to complete your profile. It will allow us to show you those 2 visa chance scores depending on your citizenship and the visa(s) calculated for you.
Because depending on your profile, this will calculate your ideal visa with the algorithm we created. And then, it's going to match the position you are looking for and the visa you are eligible, with sponsor companies that are used to sponsor this kind of visa and with open jobs in your field.
We hope you love these awesome new features as we do!
Thanks for all the feedback we get from you every day! Going forward, we will continue to communicate regularly through the blog and provide new articles and notifications to give you all of the information you need for your job search in the USA.