We are very excited to announce the launching of our job search site, especially for international candidates who are looking for a job in the USA! USponsor Me won't be a simple companies list anymore, but also a real job board!
USponsor Me V2.0 will be soon in your desktop. With a lot of new features with it!!
Quick Summary
With this new version, you will get:
A new search engine… An entirely new job board!!!
­A new and upgraded look
New features
More companies
New visas
And more!
The goal is to bring you more opportunities to find your dream job in the United States of America, as we did it! 😉
A new search engine… A completely new job search system!!!
You will now have the choice to search either on jobs or on companies!
The job board is completely new, allowing you to search for open jobs in sponsor companies, on job title and content description, and not on the old sponsored jobs anymore.
Here is how it's going to look like: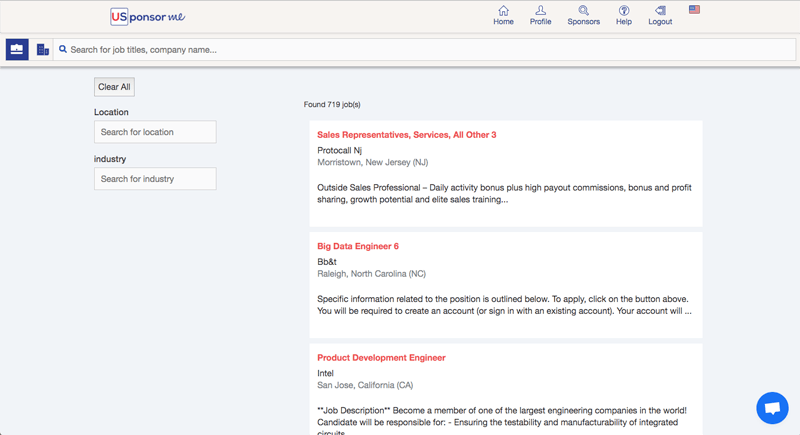 New Features: Strengthening Job Search Site
When you see a company on our job board right now, you know that they have offered sponsored jobs, but you don't have a way to know when was the last time they did it. Gosh, what year??
Therefore, in the new version, you will be able to see the last year the company sponsored someone!
Fewer Errors, More Results
After an exhaustive search for things to improve, we realized the number of typos, duplicated rows, duplicate jobs, and even wrong industries categorization.
Now companies and jobs will become unique, and all the companies will be affected by the right industry they belong to.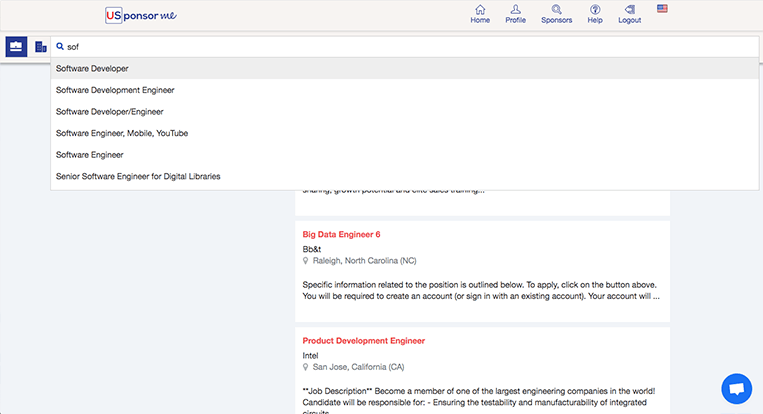 We heard you loud and clear! And, we know that in the current app it's hard to find jobs, and that can be very discouraging when you are searching for open positions in your area of business, but you don't have a good outcome.
So we added for you, the autocompletion feature! So you will always find the most relevant open jobs for you!
Currently, we admit the app has confusing filters.
We are going to remove some filters and replace them with new ones. With this new version:
You will only have one filter for the location, doesn't matter if you are searching in a State or a specific city.
We are going to remove the list of the job titles, as you already have it in the top search bar.
We will merge the filter "citizenship" and "nationality" in a single filter.
And more!
No confusing filters anymore, only available filters that you need! This will help you to target open jobs and companies in the right way!!
New! Your Job Alert Notifications
Right now, you don't know once there is a new job in your field…
Hence, in the new version, you are going to receive an alert when new jobs open!!!
The last, but not the least… As you know, the USponsor Me app is not yet mobile responsive.
We made big changes to make this possible for you. And now, you will be able to search your job directly on your mobile phone!
And more data…
More industries, more opportunities, more visa sponsorships
Currently, you only have opportunities for skilled and graduate people, and plenty of companies which sponsor visas, the majority of them do it under H1B.
But the USA also recruits people without college/university degree, and there are types of visa for those profiles too, like H2B and H2A!!
In the version V2.0 of USponsor Me, you are going to have these jobs and thousands of new companies that sponsor 5 new visas: L1, H2B, J1, O1, and H2A!!
More Information on the open jobs
Currently, you have very few information regarding the open jobs.
Therefore, in the new version, you will have more information regarding the open positions like published date, job description, salary and more.
Why we did it and how?
At this time, in the app USponsor Me, we cannot add open jobs of companies that want to sponsor a candidate especially, if the company doesn't publish first his open job on indeed.com. Which has been an enormous constraint for us… Besides that, it's a hard work for us today to clean and update our data. Additionally, we couldn't develop any further features with the system we currently use.
So, this was a huge decision with a costly price, but I'm sure, is a good one to offer you a better tool in order to multiply your chances, and get your job in the USA!
This costly decision meant an enormous time investment also for us in order to review our whole system from the ground!!!
We hired a big data scientist to work on this project, and Max also worked a lot on this during his free time.
Hence, we established a robust database behind it, collecting new data with the current one, and send it into a powerful system. As a result, this will allow you to search directly for your open jobs very efficiently and quickly.
The challenge? Treat 6 Million dirty records: Green Card, H1B, H2B, H2A, L1, etc. petitions in the past 10 years.
We cleaned it up, merged and guessed those data to avoid things like duplicates, and guess the visa, the citizenship of the company, and its "sponsorship scoring" if it's a good sponsor or not.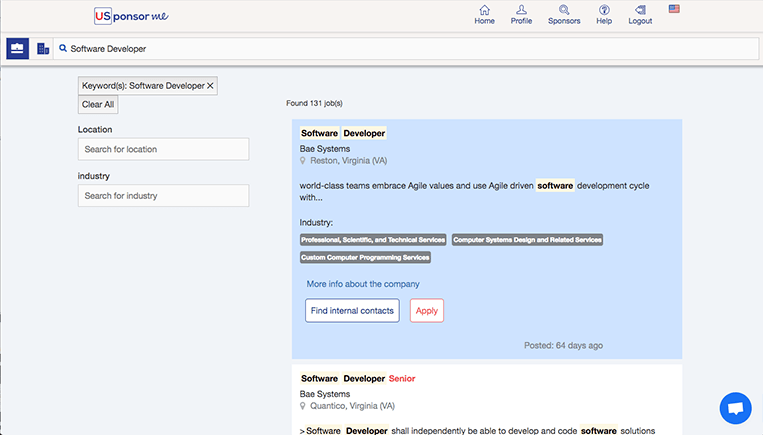 Then, we retrieved most of the jobs from the net in those companies. And we are opening now to collect new data, and have finally the possibility to add open positions with visas guaranteed!!!! 😀
Also, we wanted to offer you this massive data in a friendly way so that you can use it without any problems. And lastly, we worked hard to provide you with brand new features as exposed above.
How much did it cost and when it's going to be live?
Being an open book: this whole project cost several thousands of dollars. We can't be more excited to see the fantastic results that will bring for all of you!
We keep working on it, and it should be ready next month, end of October. Therefore, you will be notified once it's ready if you stay subscribed to my newsletter. ?
Want to give a try? Read our success stories! See what this job search site in the USA can do for you!